Serving Bledsoe, Franklin, Grundy, Marion, Rhea and Sequatchie counties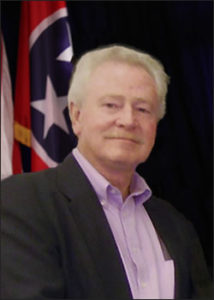 Bachelor of Science, East Tennessee State University, 1973; Doctor of Jurisprudence, University of Tennessee School of Law, 1976.
Elected District Attorney General in 1992. Reelected in 1998, 2006, and 2014, Assistant District Attorney General, 1980 to 1992.
Number and types of courts in your district:
3 Circuit/Criminal Courts, 6 General Sessions Courts, 6 Juvenile Courts, and 1 Drug Court
Notable things about your district:
The 12th Judicial District is the second largest district by number of counties in Tennessee. The district borders two states and occupies two separate time zones.
The 12th is home to the University of the South at Sewanee and Bryan College in Dayton, TN. The famous Scopes Trial Courthouse is located in Dayton, and is on the registry of National Historic Places. The largest Tennessee Department of Corrections facility in the state is located in Bledsoe County.
When it comes to safety and prevention, Tennessee District Attorneys know the importance of being tough on crime. Learn more about what your DA does.
375 Church St., Suite 300
Dayton, TN 37321
Phone: (423) 775-4468
Fax: (423) 775-2805
Winchester Criminal Office
3162 Tullahoma Highway
Winchester, TN 37398
Phone: (931) 962-1144
Fax: (931) 962-1165
P.O. Box 1058
3751 Main St.
Jasper, TN 37347
Phone: (423) 942-5289
Fax: (423) 942-5670
391 Main St., Suite C
Dayton, TN 37321
Phone: (423) 775-5222
Fax: (423) 570-0692
3162 Tullahoma Highway
Winchester, TN 37398
Phone: (931) 962-1158
Fax: (931) 962-1160
P.O. Box 1058
3751 Main St.
Jasper, TN 37347
Phone: (423) 942-3538
Fax: (423) 942-6305