Honorable Jason L. Lawson
Serving Jackson, Macon, Smith, Trousdale and Wilson counties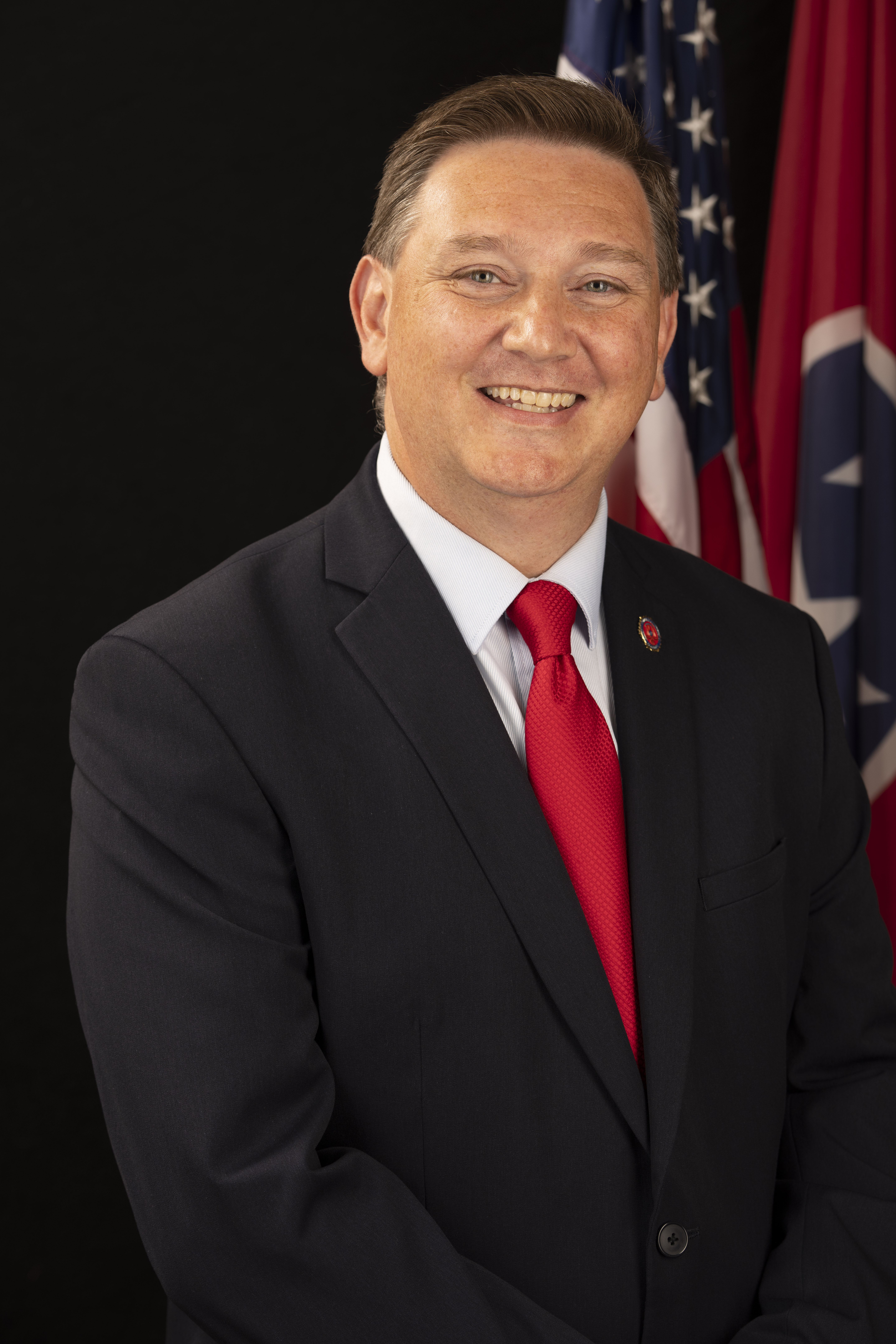 1999 Middle Tennessee State University, B.S.; 2002 University of Tennessee College of Law, J.D.
Appointed by Gov. Bill Lee in April 2021. Elected to serve a full term in August 2022.
Gen. Lawson was appointed to the office by Governor Bill Lee on April 7, 2021. He had previously assumed the duties of the office on March 1, 2021, after being appointed by presiding judge Brody Kane as the acting district attorney upon the retirement of his predecessor, Gen. Tommy Thompson. Prior to his appointments, Gen. Lawson was a Deputy District Attorney where he served prosecuting drug offenses and homicides. He previously served as an Assistant District Attorney where he prosecuted thousands of cases over his career, including virtually every type of offense criminalized in Tennessee.
Gen. Lawson's philosophy is that our criminal justice system is only as strong as our prosecutors. He serves to ensure that criminal prosecution in the 15th district is tough but fair. Gen. Lawson's decision to be a prosecutor stems from his desire to help correct injustice, to make the lives of victims better, and to appropriately sentence offenders for their violations of the law. Above all, it is the mission of the office of the 15th Judicial District to achieve the right result in every case. The attorneys of the 15th district know that our communities are counting on us to reach a fair resolution in every case charged that will instill confidence in our criminal justice system.
Gen. Jason Lawson is a proud native of Watertown, Wilson County, Tennessee, where he graduated high school in 1995. Upon his graduation from law school in 2002, Jason moved to Mt. Juliet where he has resided with his wife and two children for the past 19 years.
Gen. Lawson is a member of the Wilson County Bar Association and serves on the Board of Directors for the 15th Judicial District Child Advocacy Center. He is active in his community by coaching basketball and flag football in Mt. Juliet and serves in the Lebanon Noon Rotary Club. Gen. Lawson is also active in his church, where he enjoys serving as the youth director. Gen. Lawson was awarded a special award for service to the Child Advocacy Center in 2006 and was awarded the President's Award by the District Attorney General's Conference in 2011. Gen. Lawson has served on the District Attorney's legislative committee, justice and professionalism committee, family services committee, and victim's services committees.
Number and types of courts in your district:
The 15th district has General Sessions and Juvenile Courts in each county and two trial level judges with Criminal Court assignment. In addition, the 15th District Attorneys Office engages in Child Support Enforcement and is active in the district's Drug Court Program.
Notable things about your district:
Wilson County is home to the Cedars of Lebanon State Park, which was named after the Cedars of Lebanon found in the Bible from which Solomon's Temple was built. Many of the early official buildings in Wilson County, including the first Wilson County Courthouse, were built from red cedar logs harvested from the Cedars of Lebanon State Park.
Macon County is the location of Red Boiling Springs, home of five types of natural mineral water: white, red, black, double and twist, and free stone. Each has a mineral composition relating to differing rock formations in the area. Near Pleasant Valley in Macon County is found what is reported to be the world's largest sun dial, built in 1920 by local resident Elmer White. Notable residents of Macon County include Lafayette native Nera White, the first female basketball player inducted into the National Basketball Hall of Fame.
Smith County is one of the few counties in the country that is home to two Nobel Peace Prize winners - former U.S. Secretary of State and "Father of the United Nations" Cordell Hull and former Vice President and climate change advocate Albert Gore, Jr.. Smith County is also the site of Rome, Tennessee, where in 1845 excavations unearthed bones and teeth of a prehistoric animal the size of a Mammoth.
Jackson County was named for General Andrew Jackson in the year 1801, twenty-eight years before he became President of the United States. Jackson County is the home of Jamie Dailey of the Grammy-nominated country bluegrass band Dailey & Vincent. The Granville community is a hidden treasure in Tennessee, boasting a "Mayberry - I Love Lucy" museum, the historic T. B. Sutton General Store, as well as Carverdale Farm (one of the oldest continually operating farms in Tennessee).
Trousdale County is one of only three metropolitan forms of government in Tennessee, sharing this style of management with Davidson and Moore counties. Trousdale County is geographically the smallest county in Tennessee at only 117 square miles. Despite its geographic size, Trousdale County has the 4th most TSSAA high school football championships in the state, winning the prize in 1972, 1990, 1993, 1997, 1998, 2005, 2008, 2009, and 2013.
When it comes to safety and prevention, Tennessee District Attorneys know the importance of being tough on crime. Learn more about what your DA does.
Hartsville Criminal Office
P.O. Box 178
203 Greentop St.
Hartsville, TN 37074
Phone: (615) 374-2604
Fax: (615) 374-4922
P.O. Box 178
203 Greentop St.
Hartsville, TN 37074
Phone: (615) 374-3714
Fax: (615) 374-3758
119 South College St.
Lebanon, TN 37087
Phone: (615) 443-2863
Fax: (615) 443-2870
125 South College St.
Lebanon, TN 37087
Phone: (615) 443-2871
Fax: (615) 443-2873
1001 North Main St., 2nd Floor
Carthage, TN 37030
Phone: (615) 314-1150
Fax: (615) 735-8441
1001 North Main St., 1st Floor
Carthage, TN 37030
Phone: (615) 735-8447
Fax: (615) 735-8472