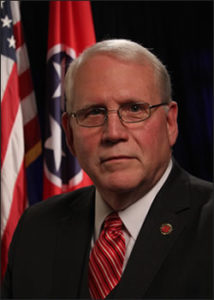 1968 graduate of Clarksville High; 1972 graduate of Vanderbilt University, B.A.; 1985 graduate of Nashville School of Law, J.D.; 1990 admitted to Tennessee Bar; licensed to practice law in Tennessee courts and federal courts in Tennessee
Sept. 1, 1993, to present, District Attorney General, 19th Judicial District
John W. Carney Jr. is the District Attorney General for the 19th Judicial District, proudly serving Montgomery and Robertson counties with more than 45 years of law enforcement, management and prosecutorial experience encompassing criminal and child support divisions. A Montgomery County native, Gen. Carney was the first in his family to go to college and graduated with a B.A. degree from Vanderbilt University, where he earned a four-year football scholarship and was a letterman with the Southeastern Conference. He received his Doctor of Jurisprudence degree from Nashville School of Law and is a member of the Tennessee Bar Association.
Prior to becoming District Attorney in 1993, Gen. Carney began his career as a criminal investigator with the Tennessee Bureau of Investigation (TBI), the state's leading criminal investigative agency, where he held every major management and leadership position within the bureau, including Special Agent in Charge, Deputy Director and, ultimately, Director of the TBI. While at TBI, Gen. Carney held a top security clearance and was assigned on Secret Service details protecting President Ronald Reagan and President George H.W. Bush.
Growing up, Gen. Carney always aspired to be the District Attorney of his hometown. He has overseen the successful prosecution of some of the district's most challenging cases and violent criminals ensuring our communities are safe today, tomorrow and for generations to come. Gen. Carney received an award from the Tennessee District Attorneys Conference for his work on educational videos for Tennessee's teen pregnancy awareness campaign "What's the Rush" and contributed to the development of "Deceptive Danger," in conjunction with the District Attorneys Conference, former Gov. Bill Haslam's office and the Tennessee General Assembly. In coordination with the DAs Conference, Gen. Carney received honors from the National Academy of Television Arts and Sciences, Nashville (EMMY) for the "Meth is Death" campaign and video regarding the dangers of methamphetamine.
Gen. Carney resides in Clarksville with his beloved chocolate lab, Beau, and has two grown children. In his free time, he is an avid football fan (#AnchorDown) and researches family army service during World War II.
First Baptist Church, Clarksville, Tenn., Ordained Deacon; Former Co-teacher – couples 7 – Adult Sunday School
Former chair, Habitat for Humanity
Head of 19th Judicial District Drug Task Force
Member, Child Protective Investigative Team
Member, Child Fatality Review Team
Chairman and co-author of Tennessee Sex Offender Registration, Verification and Tracking Act of 2004 and 2005
Former member, Executive Board of the Tennessee District Attorneys General Conference
Past Chairman, Tennessee Public Safety Coalition Legislative Committee, representing Tennessee District Attorneys General Conference
Past member, Sex Offender Treatment Board
Co-founder and former President, Montgomery County Child Advocacy Center
Former member, Domestic Violence Death Review Team
Established "On Wings of Love" yearly program, along with Susan Marks
Driving force in obtaining Orson IV, Labrador/Retriever mix, facility dog
Established Montgomery County Children's Memorial Garden, along with "AGR" fraternity at APSU
Former adviser, APSU Criminal Justice Programs
Graduate, Leadership Clarksville
Former President, CHS Football Booster Club
Founder, CHS Football Alumni Club
Former Volunteer Football Coach for Middle School Football Programs
Number and types of courts in your district:
The 19th Judicial District includes three Circuit Court divisions, three General Sessions Courts and Juvenile Court in Montgomery County. Robertson County includes three Circuit Courts divisions, one General Sessions Court and Juvenile Court.
The district also includes the largest Child Support Unit under a Tennessee District Attorney, collecting over $2 million in child support monthly and managing the fifth-largest caseload in the state.
Notable things about your district:
The 19th district includes Austin Peay State University and a portion of the Ft. Campbell Army base in Montgomery County. 
Montgomery County has a Child Advocacy Center to assist with the forensic interviews of child sexual abuse victims. The Morris-Gregory Robertson County Child Advocacy Center in Springfield conducts forensic interviews and provides counseling for children who experience sexual or severe physical abuse.
The 19th Judicial District obtained Orson IV, a facility dog for victims of crime, in 2013 to assist victims and witnesses during stressful stages of legal proceedings, such as child forensic interviews and trials. Orson IV works with the Child Advocacy Centers of Montgomery and Robertson counties and in partnership with the Courthouse Dog's Foundation and the Canine Companions for Independence. Orson IV is handled by Assistant District Attorney Kimberly Lund.
Both Montgomery and Robertson counties have established an On Wings of Love program to remember homicide victims during the Christmas season. Montgomery County also has a Children's Memorial Garden dedicated to child homicide victims.
When it comes to safety and prevention, Tennessee District Attorneys know the importance of being tough on crime. Learn more about what your DA does.
Clarksville Criminal Office
200 Commerce Street, Suite A Clarksville, TN 37040
Phone: (931) 648-5574
Fax: (931) 648-5543
Springfield Criminal Office
502 South Main St.
Springfield, TN 37172
Phone: (615) 382-2422
Fax: (615) 382-2425
Clarksville Child Support
200 Commerce Street, Suite C
Clarksville, TN 37040
Phone: (931) 572-1663
Fax: (931) 648-5539
Springfield Child Support
101 5th Ave. West, Suite 102
Springfield, TN 37172
Phone: (615) 382-2433
Fax: (615) 382-3142