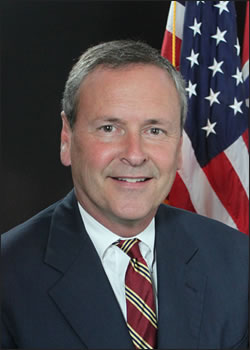 Wake Forest University & University of Mississippi
Elected 2014. Re-elected in 2022.
A veteran trial attorney, Gen. Glenn R. Funk has been a special prosecutor, an assistant DA, a public defender, and an attorney in private practice. He strives to "Do Justice, Always' and seeks to show humanity to both victims and defendants alike. After graduating Cum Laude from Wake Forest University, General Funk attended law school at the University of Mississippi. General Funk believes in public service, fairness and justice for all. He is committed to making our community safe, standing up for what is right, and giving victims the justice they deserve.
General Funk is a proud husband to wife Lori and father to their three grown children. A church leader, he also serves on the board of directors of TN Voices for Victims, the YWCA, the Vanderbilt Kennedy Center Leadership Council, the Rochelle Center, Room in the Inn, the Child Advocacy Center, the Down Syndrome Association, and other organizations. He was named 2014 'Man of the Year' by The Tennessee Tribune newspaper for his work toward enhancing diversity in the District Attorney's Office.
Number and types of courts in your district:
Nashville has 11 General Session courts, which also include a number of specialty courts for special needs (such as Recovery Court, Veterans Court, and others). The district has 6 criminal court divisions.
Notable things about your district:
Nashville has been called the 'IT' city for close to a decade, with an average of 100 people moving to the city each day. The population is soaring, and the skyline is ever-changing as new companies such as Amazon and Oracle move their operations here. Music City is also home to a number of colleges and universities, giving our city another moniker: The Athens of the South.
When it comes to safety and prevention, Tennessee District Attorneys know the importance of being tough on crime. Learn more about what your DA does.
222 2nd Ave. North, Suite 500
Nashville, TN 37201
Phone: (615) 862-5500
Fax: (615) 862-5599