Honorable Matthew F. Stowe
Serving Benton, Carroll, Decatur, Hardin and Henry counties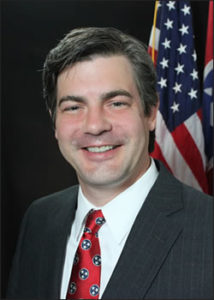 Dartmouth College, B.A.; Harvard Law School, J.D.
Elected in 2014
Gen. Matthew Stowe first ran for District Attorney General in 2014. He said his motivation was that he felt "the criminal justice system was failing crime victims," and he wanted "to make a difference." He sought to accomplish this by fighting for tougher sentences for violent crime victims and upholding the Constitution. As District Attorney, Gen. Stowe has fought fervently to protect the elderly, vulnerable adults and children by seeking justice on their behalf. His Child Support Team works every day to ensure the children of the 24th Judicial District are properly clothed and fed. Further, as head of the 24th Judicial District Drug Taskforce, Gen. Stowe oversees the fight to stop the flow of drugs into the district. Last but not least, his office always seeks to balance treating defendants with compassion while also holding them accountable for their actions. "Serving as the voice of the people in the courtroom is the highest possible honor," Gen. Stowe said.
Eva Road Church of Christ
Number and types of courts in your district:
5 general sessions courts, 5 juvenile courts, 5 circuit courts, 5 chancery courts, 1 safe baby court
Notable things about your district:
The 24th Judicial District is rural, with five family justice centers. Residents enjoy hunting and fishing. They love to eat catfish and BBQ, which are served at the many family-friendly restaurants in the district. Timber, sawmills, paper plants and livestock are important industries, as are recreation and tourism. While small, the district is full of people who support and love each other and come together as a community to work for the common good.
Elder Abuse in Tennessee
Over the past three years, Tennessee's District Attorneys General have worked with lawmakers to craft better laws with tougher penalties to combat elder abuse. Click the link above to learn more about this important initiative.
Real World Tennessee Teens
Did you know three out of every five teens are involved in some sort of illegal activity? That statistic is disturbing and one that District Attorney Stowe wants to wipe out. This website educates Tennessee teens on what they need to know about the law. Click the link above to learn more.
When it comes to safety and prevention, Tennessee District Attorneys know the importance of being tough on crime. Learn more about what your DA does.
Huntingdon Criminal Office
P.O. Box 627
100 Court Square
Huntingdon, TN 38344
Phone: (731) 986-5031
Fax: (731) 986-5208
P.O. Box 503
106 West Lake St.
Camden, TN 38320
Phone: (731) 584-2427
Fax: (731) 584-5578
Decaturville Criminal Office
P.O. Box 357
6 West North Street
Decaturville, TN 38329
Phone: (731) 852-2539
Fax: (731) 852-2547
P.O. Box 1155
213 W. Washington, Suite 104
Paris, TN 38242
Phone: (731) 642-6307
Fax: (731) 644-3528
P.O. Box 484
465 Main St.
Savannah, TN 38372
Phone: (731) 925-7570
Fax: (731) 986-7570
P.O. Box 99
100 Court Square, 2nd Floor
Huntingdon, TN 38344
Phone: (731) 986-2233
Fax: (731) 986-5343
P.O. Box 281
101 West Blythe St.
Paris, TN 38242
Phone: (731) 644-9191
Fax: (731) 641-2396
P.O. Box 1715
354 Main St.
Savannah, TN 38372
Phone: (731) 925-1087
Fax: (731) 925-6921