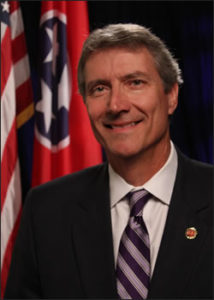 University of Tennessee at Martin, University of Tennessee College of Law
Appointed by Gov. Ned WcWherter in January 1990; Won a contested election to a full term in August 1990; Unopposed in 1998, 2006 and 2014.
After graduating from UT College of Law in 1978 and passing the Tennessee bar exam, Gen. Tommy Thomas returned to his native Weakley County to practice law in both Dresden and Martin. In 1986, Gen. Thomas was hired as a part-time Assistant District Attorney. There he prosecuted cases in the 27th Judicial District, which serves both Weakley and Obion counties. He said he always enjoyed "working to enforce the laws that make us safe" and fighting for justice on behalf of the people of Tennessee. It was that conviction that led him to successfully run for District Attorney General in 1990. Thirty years later, he continues to serve in this position. Gen. Thomas is married to Paula Thomas, and they have three adult children.
Chairman of the Administrative Board of Dresden First United Methodist Church
Member of Dresden Elks Lodge and recipient of the 2005 "Elk of the Year" award
Past member and officer of Dresden Lions Club
Past president and current member of Dresden Rotary Club
Two-time recipient of the "Rotarian of the Year" award
Past member and chairman of the UTM Alumni Council
Past member of the University of Tennessee Board of Governors
Member of the UT President's Club
Recipient of the UTM "Outstanding Young Alumnus" award
Past president of Dresden High School Booster Club
Past president of Tennessee District Attorneys General Conference
Past member of Tennessee Bar Association Board of Governors
Founding and current board member of our local Carl Perkins Child Abuse Center
Founding and current member of the 27th Judicial District Drug Court
Founding board member and current chairman of the board of the 27th Judicial District Westate Community Corrections program
Board member of the 27th Judicial District Drug Task Force
Number and types of courts in your district:
Juvenile, General Sessions, Circuit Courts
When it comes to safety and prevention, Tennessee District Attorneys know the importance of being tough on crime. Learn more about what your DA does.
119 North Poplar St.
Dresden, TN 38225
Phone: (731) 364-5513
Fax: (731) 364-5804
Union City Criminal Office
201 West Main, Suite A & B
Union City, TN 38281
Phone: (731) 884-2610
Fax: (731) 884-2615