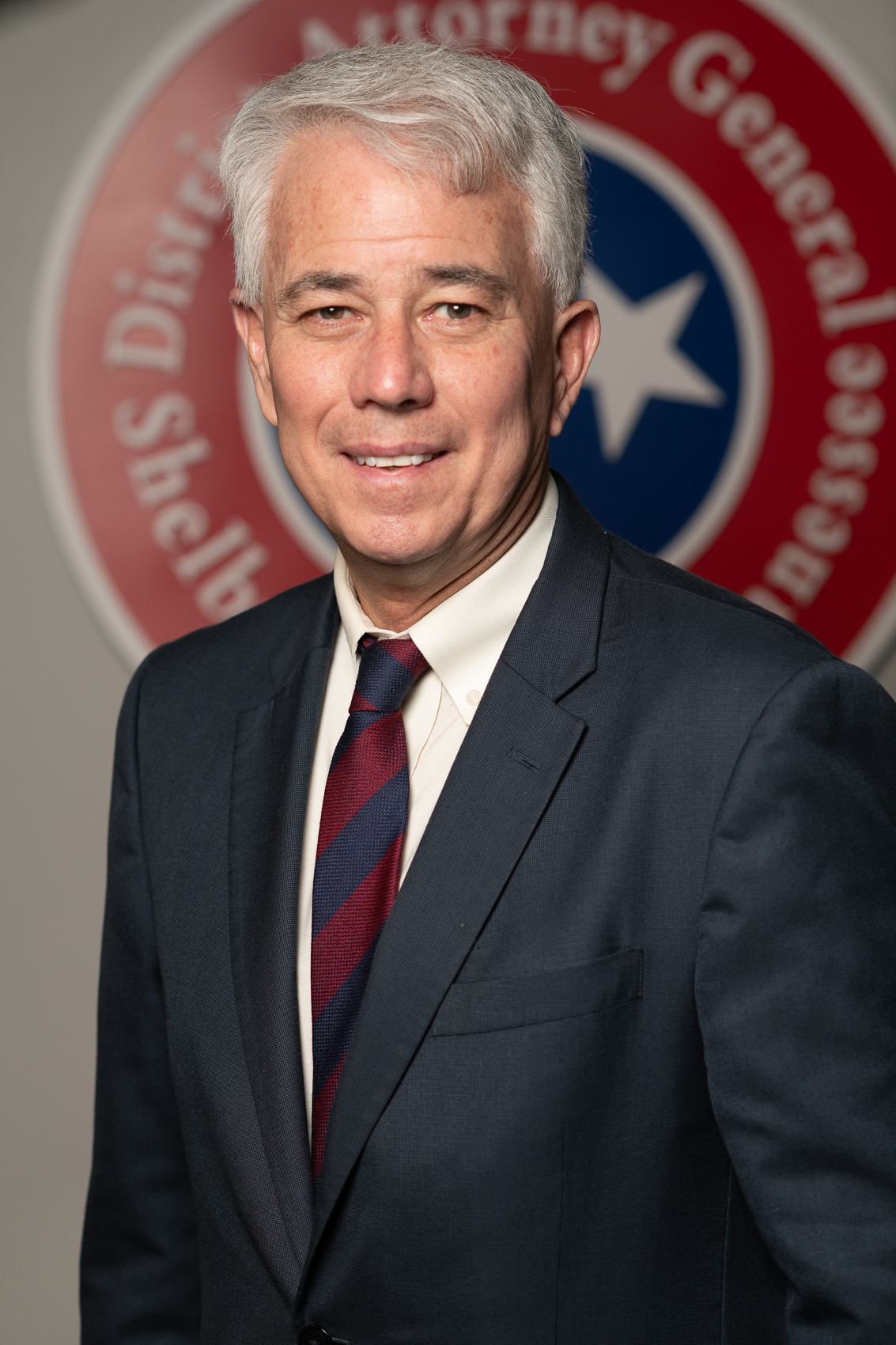 1987 University of Tennessee at Martin, B.S.; 1990 Cecil C. Humphreys School of Law, University of Memphis
With over 30 years' experience, Gen. Amy Weirich sees her work as a prosecutor as an opportunity "to work with incredible people," to do a job that simply requires her "to do the right thing every day for the right reason." The problem-solving element of being a prosecutor is an aspect she particularly enjoys. On the surface, her office handles cases; they react to the conduct of others. But, as Gen. Weirich explains, the mission of the 30th Judicial District goes far beyond that. "We work to restore order – for victims and communities. We work to prevent and intervene in lives to avoid future criminal conduct." Gen. Weirich considers this work – helping victims and helping offenders find a way out of the criminal justice system – a great honor.
Gen. Weirich has been married to Chuck Weirich for 28 years and is the mother of "four usually wonderful children" – ages 27, 23, 19 and 14 – and one rescue dog.
National District Attorneys Association; Association of Prosecuting Attorneys; Child Advocacy Center Board Member; Family Safety Center Board Member; YMCA Board Member; St. Louis Catholic Church
Number and types of courts in your district:
General Sessions Criminal, 9 (includes Domestic Violence Court, Environmental Court, Veterans Court, Mental Health Court); Criminal Courts, 10; Juvenile Court, 1
Notable things about your district:
Memphis is home to world-famous, iconic institutions such as St. Jude Children's Research Hospital, the FedEx Express World Hub, AutoZone, International Paper Company, The Peabody Hotel and Graceland, home of Elvis Presley. Memphis also is home of historic Beale Street, Sun Studios, the Stax Museum of American Soul Music, the Memphis in May World Championship Barbecue Cooking Contest held on the banks of the Mississippi River, the Memphis Grizzlies of the National Basketball Association, and the Memphis Redbirds, the Triple-A affiliate of the St. Louis Cardinals.
More than a half dozen colleges or universities call Memphis home, including the University of Memphis, Rhodes College, Christian Brothers University, LeMoyne-Owen College and the University of Tennessee Center for the Health Sciences, which includes colleges of Dentistry, Graduate Health Sciences, Health Professions, Medicine, Nursing and Pharmacy.
"The Firm," "The Rain Maker," "Cast Away," "Hustle & Flow," and "Walk the Line" are among the many movies filmed in Memphis.
Restoration Saturday
While enforcing the law is the brain of this office, it is the enrichment component that gives us our heart and soul. We have a number of intervention and second-chance programs, perhaps the largest of which is Restoration Saturday. This semiannual event involving multiple agencies is held at a host church where hundreds of Shelby County residents have been able to get their lives back on track by getting driver's licenses restored, fines and child support settled, and minor criminal offenses expunged. There also are job and educational opportunities offered. The need is great, and it is our honor to be able to help restore and enrich the lives of so many members of the community.
When it comes to safety and prevention, Tennessee District Attorneys know the importance of being tough on crime. Learn more about what your DA does.
201 Poplar Ave., Suite 301
Memphis, TN 38103
Phone: (901) 222-1300
Fax: (901) 222-1305