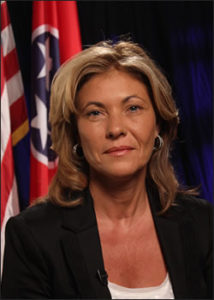 Tennessee Technical University, Bachelor of Science, 1995; Nashville School of Law, Doctor of Jurisprudence, 2000
2006, Elected as District Attorney General for the 31st Judicial District; 2014, Reelected
Upon graduation from Nashville School of Law in 2000, Gen. Lisa Zavogiannis entered the private practice of law. In 2006, Gen. Zavogiannis became the first woman to be elected District Attorney in the 31st Judicial District. Victims of crime are a top priority within Gen. Zavogiannis' administration. She has championed the cause of victims' rights in her district by continually working within the legislature to help rewrite and strengthen existing elder abuse laws, as well as helping to pass new legislation to protect our most vulnerable citizens. During her years as District Attorney, she has served as the president of the Conference and on numerous committees leading the fight against elder and child abuse. Gen. Zavogiannis served as the president of the Children's Advocacy Center in her district for over 10 years and in 2009 received the Outstanding Service Award for prevention of child abuse from the National Children's Advocacy Center.
Gen. Zavogiannis is also a veteran in the fight against opioid drug abuse in her district and has served on the Legislative Opioid/Heroin Committee. In 2009, she led an intensive campaign against an attempt to locate a methadone clinic in Spencer, Tenn. She led a contingent of local citizens to Nashville and testified before the Tennessee Health Services Development Agency about the devastating effects that methadone would have on their community and was ultimately successful in keeping the methadone clinic out of her district.
Gen. Zavogiannis is dedicated to educating the students in her district with the goal of deterring future drug use. Since being elected, Gen. Zavogiannis has annually presented the anti-drug programs Meth Destroys and Deceptive Dangers to the students in each of the middle and high schools in her district.
Gen. Zavogiannis moved to McMinnville in Warren County, Tenn., in 1989 where she and her husband have lived and raised their children ever since.
Governor's Elder Abuse Task Force; TNDAGC Representative, Statewide Coordinated Community Response Team for Vulnerable and Elderly Adults; Vice Chairman, Legislative Elder Abuse Task Force; Chairman, TNDAGC Executive Committee; Member, TNDAGC Child Abuse Committee; President, Children's Advocacy Center
Number and types of courts in your district:
The 31st Judicial District is composed of Warren and Van Buren counties. The District Attorney's Office prosecutes criminal and child support cases in the Juvenile, General Sessions and Criminal Courts in both counties.
Notable things about your district:
Warren County has long been known as the Nursey Capital of the World, with a tree farming history that dates back to the 1870s. The county currently has more than 300 nurseries in operation. Van Buren County is home to Fall Creek Falls State Park, the largest and most visited state park in Tennessee.
When it comes to safety and prevention, Tennessee District Attorneys know the importance of being tough on crime. Learn more about what your DA does.
McMinnville Criminal Office
P.O. Box 510
131 East Main St.
McMinnville, TN 37110
Phone: (931) 473-9572
Fax: (931) 473-7410
121 Taft Drive, Suite #124
Spencer, TN 38585
Phone: (931) 946-5012
McMinnville Child Support
P.O. Box 183
125 East Main St.
McMinnville, TN 37110
Phone: (931) 473-6561
Fax: (931) 473-5841