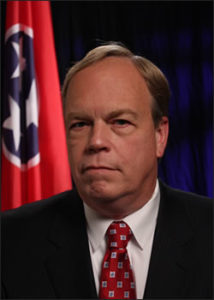 University of Tennessee Knoxville, B.A. 1976; University of Tennessee Knoxville, College of Law, J.D. 1980
First elected in 1990; Reelected in 1998, 2006, 2014
Gen. Mike Flynn has been married to Vickie Connatser Flynn for 38 years. They have two children and four grandchildren. Throughout his career, Gen. Flynn has been very active in establishing a Recovery Court program in the 5th Judicial District. He has served as the president of the Tennessee Association of Recovery Court Professionals and currently serves on the Tennessee Department of Finance and Administration's Recovery Court Advisory Court Committee. When asked why he ran for District Attorney General, he had this to say: "I ran for District Attorney General because I felt that the voices of victims were often overlooked. Throughout my career, I have attempted to listen to victims and make them a part of the criminal justice system."
First United Methodist Church Maryville
Number and types of courts in your district:
Two Circuit Courts (both also hear Criminal Cases), four General Sessions
Notable things about your district:
The 5th Judicial District is home to Maryville College. The district has a very active Children's Advocacy Center and a Domestic Violence Center. The District Attorney's office works very closely with both of these organizations.
When it comes to safety and prevention, Tennessee District Attorneys know the importance of being tough on crime. Learn more about what your DA does.
942 E. Lamar Alexander Parkway
Maryville, TN 37804
Phone: (865) 273-5600
Fax: (865) 273-5617
1938 East Lamar Alexander Parkway
Maryville, TN 37804
Phone: (865) 981-2373
Fax: (865) 981-5693