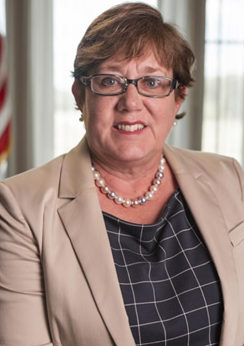 Stetson University College of Law, State University of New York College at Buffalo, Niagara County Community College
Appointed in 2008 to fill the seat of Gen. Ronald Davis after his passing. Elected to serve the remainder of the on-going term in 2008. Re-elected in 2014 and 2022.
Gen. Kim Helper is the District Attorney General for the 21st Judicial District in Tennessee. She was appointed to the position in April 2008 and elected to the position in August 2008 and again in August 2014. Prior to joining the District Attorney's Office, Gen. Helper worked in Tennessee as an Assistant Attorney General in the Criminal Justice Division.
Gen. Helper is committed to seeking justice for all parties in the criminal justice system. She is licensed to practice law in Tennessee, New York and Florida. She resides in Franklin, Tenn.
St. Paul's Episcopal Church; Lodge #41, Fraternal Order of Police; Keep Tennessee Beautiful Advisory Board; Williamson County Republican Career Women; Leadership Franklin Alumni Association; Tennessee Bar Association Leadership Law Alumni; Beta Sigma Phi Sorority
Number and types of courts in your district:
Three Circuit Courts (Parts 1, 2, 5), four General Sessions Courts, four Juvenile Courts, one City Court (Fairview)
Notable things about your district:
The 21st Judicial District includes Hickman, Lewis, Perry and Williamson counties.
When it comes to safety and prevention, Tennessee District Attorneys know the importance of being tough on crime. Learn more about what your DA does.
P.O. Box 937
421 Main St., Suite 102
Franklin, TN 37064
Phone: (615) 794-7275
Fax: (615) 794-7299